No Labels is working to ensure Americans have the choice to vote for a presidential ticket that features strong, effective, and honest leaders who will commit to working closely with both parties to find commonsense solutions to America's biggest problems.
Our Strategy
We are preparing for the possibility of offering our ballot line to a ticket. We have not committed to do so.

We will only offer our ballot line under the proper environmental conditions which must be met for us to proceed

We will measure these conditions rigorously, through regular polling and research
Memo
The Washington establishment is often so certain – and so wrong – about the future. Remember when they told you a Republican "red wave" was coming in the 2022 midterms? Or that Hillary Clinton had a "100% chance of winning the election" in 2016 against Donald Trump?

Keep this in mind next time you hear that an independent ticket could never win the White House in 2024. No Labels has spent more than a year investigating whether it is possible. We:
Surveyed more than 50,000 people

across several different polls. Our most recent poll, conducted by HarrisX in December 2022, included responses from more than 26,000 registered voters, including representative samples in all 50 states. We aren't aware of any other poll that's been conducted in the 2024 election cycle with a sample this large or this granular.

Modeled every state in the country; and

Gathered some 600,000 signatures on our way to getting nationwide ballot.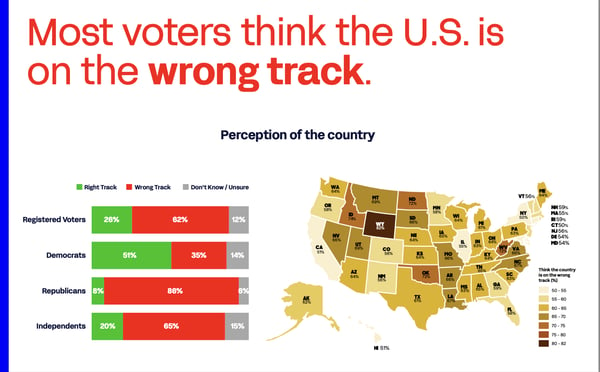 Our research reveals a public that is tired, frustrated and pessimistic about the country's future and their own prospects. They have had it with political leaders who fixate on yesterday's hatreds and grievances instead of focusing on the future.

This commonsense majority believes America can do better, and our research reveals they could propel an independent unity ticket to an outright victory in the Electoral College in 2024. This kind of ticket would draw an EQUAL share of support from both major parties, according to our latest polling.

For the last decade, No Labels has been working to combat the anger and extremism consuming our politics. We have created a growing national movement of commonsense Americans pushing our leaders together to solve our country's biggest problems. And we created the first-of-its-kind House Problem Solvers Caucus and an allied Senate group that were the force behind historic problem solving achievements like the 2021 Infrastructure Bill.

But as much as our allies achieved in Congress, the most powerful forces in both major parties are still driven by ideology and identity politics instead of common sense. The dominant leaders in both parties can't or won't break us out of this vicious cycle.

That's why in late 2021, No Labels began laying the groundwork for a potential independent unity ticket in 2024. We're well aware any independent ticket faces a steep climb and if our rigorously gathered data and polling suggests an independent unity ticket can't win, we won't force it and offer our line to a ticket that can't win.

Going forward, our project will proceed down one of two paths.
The Major Parties Wake Up: They see the growing voice and leverage of the commonsense majority, and nominate candidates and release policy platforms that cater to the needs of this majority, instead of the wants of a partisan minority. If at least one of the major parties does this, there's no need, or path, for an independent unity ticket. And No Labels will stand down and double down on the great work we're doing in Congress.
No Labels Nominates a Unity Ticket: Both parties keep forcing the American people down a road they don't want to go, and nominate candidates most Americans don't want to vote for. If this happens, and No Labels' polling and research show there is a path to victory for a unity ticket to win in the Electoral College, then we will offer our ballot line to a ticket.

Five Reasons Nobody Knows Anything About 2024
No Labels' 2024 project is an insurance policy that the American public wants and needs. And our research and polling show there are at least five reasons why Washington's conventional wisdom brigade is wrong about the prospects and impact of an independent ticket in 2024.
1) Americans Like Choices … and They Want More Choices

In December 2022, No Labels surveyed 26,230 registered voters, including 400-800 in every state.

64% said they wanted more options than just Democrats and Republicans when selecting a president, including 65% of Democrats, 55% of Republicans, and 75% of independents.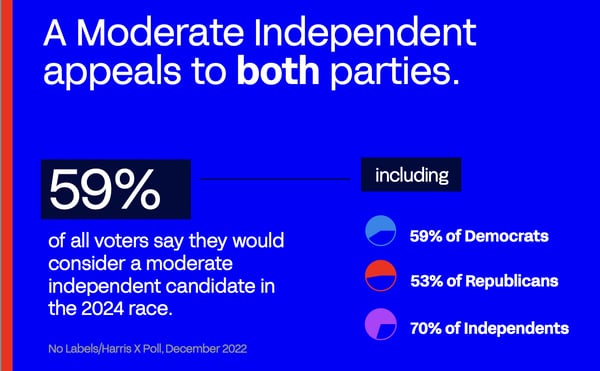 Specifically, 59% said they'd be open to voting for a "moderate independent" ticket in 2024 if the alternatives were Trump and Biden. To win outright in the Electoral College, a moderate independent ticket needs ONLY 61% of these voters who report they are OPEN to voting for one. That equates to 37% of the entire electorate.

None of this should be surprising because Americans are leaving the two major parties in droves. In February 2023, 44% told Gallup they considered themselves independent, compared to just 28% who identified as Democrats and 27% as Republicans.

It's hard to overstate just how frustrated and disaffected Americans are right now. Three-quarters of them disapprove of Congress, think the country is on the wrong track and "don't feel represented by the major leaders in either party." Half of Americans say they are worse off financially compared to a year ago, the most negative reading since 2009.

Guess what Americans identify as the single biggest problem in the country? Our leaders in Washington.
2) No One Has Ever Built an Infrastructure for an Independent Like the One No Labels is Building for 2024

Politics is a game of expectations and Americans have been conditioned by the major party establishments to view any independent presidential candidacy with fear. But the public – 82% of whom say they "resent that leaders in politics listen more to radicals than to the majority" – is increasingly tuning out the tired voices of anger and division.


Since early last year, No Labels has been gathering petition signatures in states across the country to get on the ballot in 2024. We're already on the ballot in several states and on track to be on the ballot in 28 by year's end. We're building a data vault to target and turnout the commonsense majority in the 2024 election and we'll be releasing a Commonsense Policy Agenda later in 2023. In short, we're building a launching pad for an independent unity ticket the likes of which America has never seen.

We don't just believe there is a path to victory for an independent unity ticket. We know what it could look like based on our latest polling and modeling exercise from December 2022.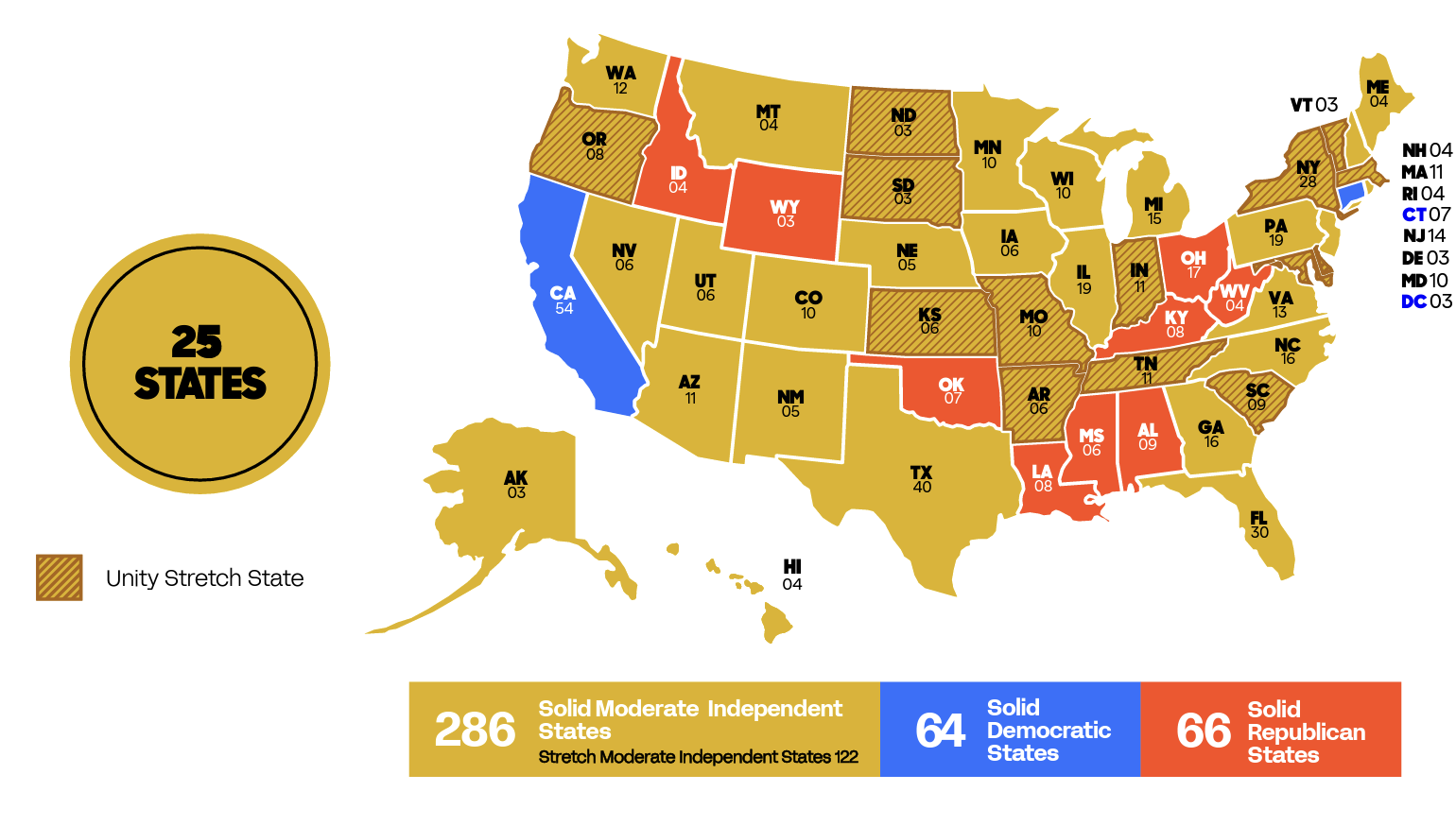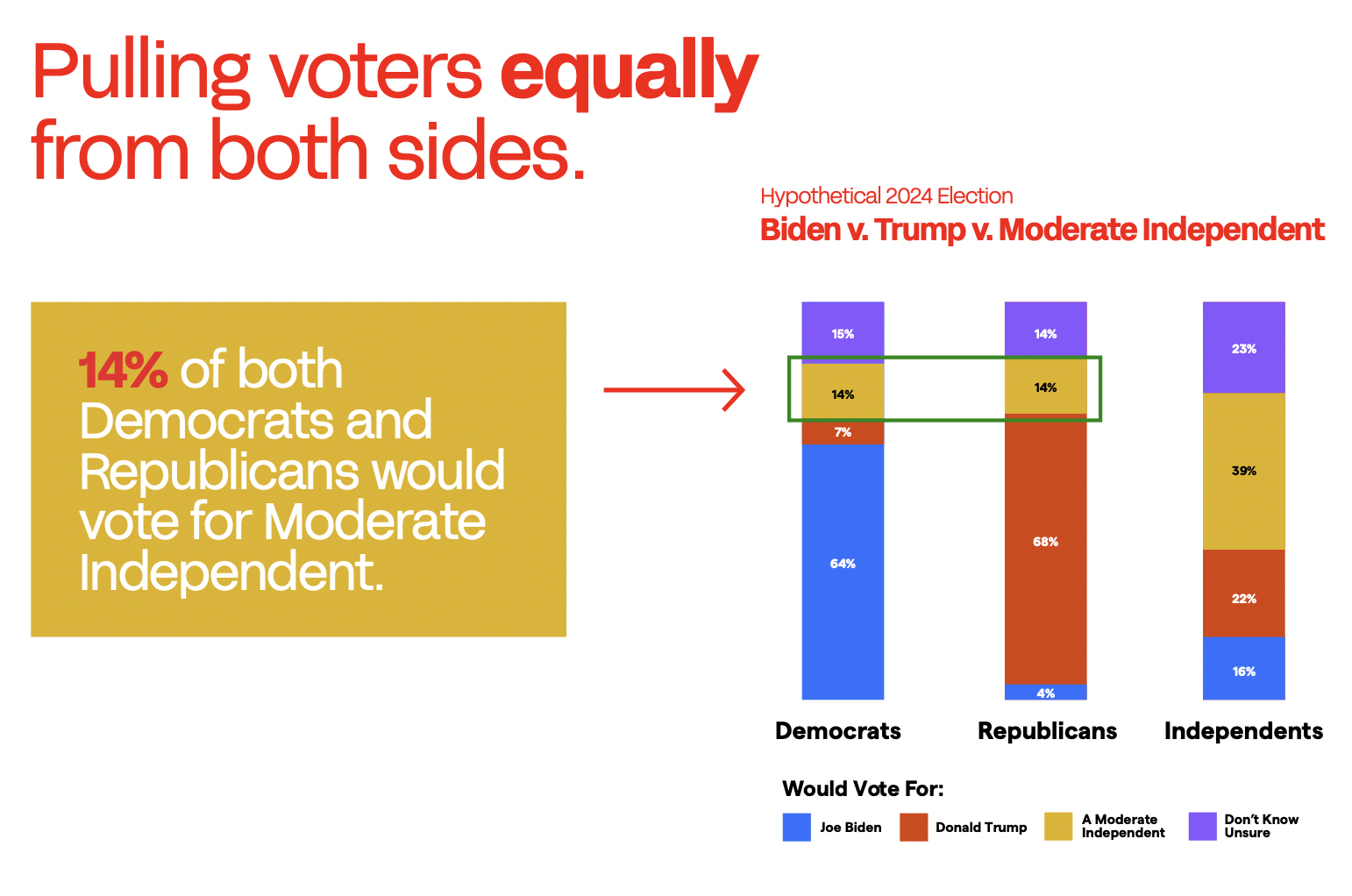 3) 2024 Could Be the Revenge of the No Shows
Here is the untold story of the 2020 presidential election: Even though overall turnout was historically high, a growing share of American voters who usually vote, did not vote specifically because they did not like the choices from either party.
According to a 2020 post-election Ipsos poll, 80 million Americans who could have voted did not, and 20% (16 million) said it was because they didn't like either candidate. Disliking the candidates is also the top reason for not voting cited by non-voters with college degrees.
The universe of voters who reject the choices from both major parties is growing too. When No Labels first polled and modeled the electorate in December 2021, we identified 64.5 million registered voters who were open to voting for a moderate independent presidential ticket.
When we did the same exercise in December 2022, the universe had grown to 77.1 million, with the most significant growth occurring among minority voters. In short, there is a bigger, broader and more diverse group of voters hungry for an alternative.

Some Americans are politically disengaged and never vote. But there are millions of other Americans who care, who usually vote, and will do so again in 2024 if they have a choice they like.
4) The Spoiled Logic of the Spoiler Argument
Some think Ralph Nader spoiled the 2000 presidential election for Al Gore, and ever since partisans have used this as a cudgel to beat down the threat of an independent ticket.

But Ralph Nader in 2000 and Jill Stein in 2016 were left-wing protest candidates who unsurprisingly won most of their votes from Democratic and self-described liberal voters who might otherwise have voted for Gore and Clinton.

The last time an independent made a play for the vast middle of the electorate – which a ticket running on No Labels' line would do in 2024 – was Ross Perot in 1992. And Perot didn't spoil anything. A November 5, 1992 New York Times story cited exit polling showing: "If Mr. Perot had not been on the ballot, 38 percent of his voters said they would have voted for Gov. Bill Clinton, and 38 percent said they would have voted for President Bush," while 24 percent would not have voted at all.
Perot only got 19% of the popular vote and no electoral votes, and if not for some notable missteps he might have gotten a lot more. Remember:
Perot was leading the race as late as June 1992 with 39%, compared to 31% for Bush and 25% for Clinton.

Perot left the race in July – strangely claiming political operatives were trying to wiretap his office and ruin his daughter's wedding – before reentering the race in September.

His vice president had arguably the worst televised debate performance in U.S. history.
On Election Day 1992, Voter Research and Surveys asked a national sample of 3,900 voters leaving the polling place "if they would have vote for Perot if [they] thought he had a chance to win:" 40% said they would have voted for Perot, compared to 31% for Clinton and 27% for Bush.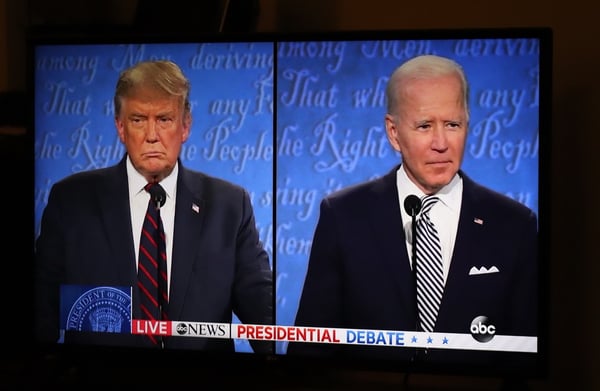 5) Americans Don't Want a Trump-Biden Rematch in 2024. They Think We Can Do Better
No Labels' December 2022 poll shows 69% of registered voters don't want Joe Biden to run for president in 2024. 62% don't want Donald Trump to run. More recent polls show an even greater share of Americans who don't want a 2020 rematch.

Behind closed doors and the safety of anonymous quotes, most of Washington knows 2024 is a disaster waiting to happen. Democratic leaders are privately wringing their hands about Biden and a few Republican leaders still hope to stop Trump. But publicly, leading Democrats have coalesced behind a Biden run, while Trump continues to lead.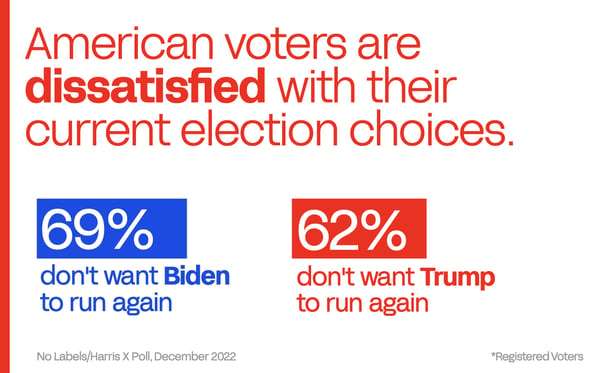 So why are both parties marching toward nominating such historically unpopular candidates?

It's simple really. In this era of negative polarization, Americans increasingly vote against, rather than for, candidates.

So party "pooh bahs" figure they can count on the same cynical but typically effective sale to the American people:
"You may not like our candidate, but you really hate the other guy, so stick with us.
But the American people are increasingly rejecting this fear mongering.
They know America can do better.

A lot can change in the next year and No Labels doesn't claim to know the future.

But something is brewing in America, and there is enough evidence that an independent Unity ticket could gain traction in 2024 to suggest this could be one of those unique American moments that fundamentally changes the trajectory of the country. The commonsense majority in America is strong, it is growing and it is ready to be heard.

Those who think otherwise are misreading the public.